Apartments Szelągówka is a modern and comfortable, and at the same time cosy and family-run hotel situated beautifully among the Masurian Lakes and forests.
Apartments Szelągówka creates a perfect place not only for the family vacation, but also for active leisure time, clearing one's head and private business meetings. It is a proposal for those who are looking for a place with a high standard, family-like and cosy atmosphere, with a wide range of attractions which meet the needs of the most demanding guests. Szelągówka includes 8cosy, and at the same time luxurious, air-conditioned apartments hidden beneath the thatched roofs, which can accommodate up to a total of 40 people. For our guests we offer an outdoor swimming pool, summer kitchen, a beach volleyball court, especially prepared place for outdoor games such as boules, cricket and others, a children's playground. To our guests we also provide daily full board based on home cooking, natural, grandma's recipes.
Moreover, 900 metres from the resort is our private pier located in the middle of the Masurian Forest on the beautiful GielądzkieLake which isall covered by the zone of silence. Thanks to its size (444 ha) GielądzkieLake creates endless possibilities for water sports and fishing. In clean, not disturbed with noise and pollution,waters of the lake you can catch multipleMasurian fish species and enjoy clean water while swimming.
In our place rest is out of this dimension…
More photos
For guests who value independence and peace combined with the standard of 4-star hotel we have prepared 8 independent apartments harmoniously enrolling in Masurian architecture.
All our apartments have their own fenced gardens with an area of 350 m2, in which there are: garden table with chairs, garden umbrella, grill, hammock, fireplace log rack stand, deckchairs garden.
Apartments for up to 4 people –they are apartments about the area of 50 m2, in which there are:
kitchen equipped with kitchen cabinets, fridge, dishwasher, electric induction hob, electric kettle and tableware (including: cutlery, cutting board, sharp knives, corkscrew, glasses, cups, mugs)
spacious living room equipped with: comfortable fold-out sofa, fireplace, TV LCD 40'', DVD player, chest of drawers, large oak table with chairs for the entire family, armchair, standing lamp
bedroom with two heavenly comfortable beds, a spacious wardrobe, comfortable reading lamps, table to work, which is also equipped with a mirror and also can be used as a dressing table
bathroom with a large and spacious shower
spacious hall with a large mirror, clothes hanger stand and little cupboard
All apartments also includea complete set of bed linen and towels.
Family Apartments for up to 6 people - they are two-level suites with an area of 80 m2, which include: bathroom, kitchen, living room, downstairs bedroom and mezzanine and bedroom on the first floor.
This apartment is ideal for families with children or large groups of friends. Among the equipment you will find everything what is in the apartmentfor up to 4 people, and a greater comfort is ensured by with one double or two single beds on the first floor.
We offer free access to Wi-Fi all across the resort.
4x

3x

2x

1x

6x

5x

4x

3x

2x

1x

HIGH SEASON:
July, August and:
Easter
May Day picnic
Christmas and New Year's Eve
MID SEASON: June and September
LOW SEASON - from October to the end of May
---
Children up to 2 years – free of charge
Charge for a pet – 30 zl / daily rate
Extra bed – 100 zl / person / daily rate
The price of accommodation includes:
Wi-Fi
car park
use of the outdoor swimming pool, playground, volleyball court beach
rental of sports equipment (volleyballs, badminton, field games such as boules, cricket, etc., fishing rods)
use of the pier on Gielądzkie Lake
towels and bed linen
final cleaning (in a high season we get a fee for cleaning 200 PLN for stays shorter than 4 nights)
reception open between 7:00-22:00
bath tub/cot/high chair – on request
Board:
Breakfastbuffet: adults 30 zł / per person, children for up to 12 years – 15 zł / per child, children for up to 2 years – free of charge
Two-course dinner + dessert + compote/drink: adults 45 zł / per person, children for up to 12 years – 30 zł / per child, children for up to 2 years – free of charge
The possibility of using the following for an additional charge:
trekking bikes - 10 zł / hourly rate, 30 zł / daily rate
kayaks – 10 zł / hourly rate, 30 zł / daily rate
sailing lessons - from 80 zł to 100 zł / hourly rate
windsurfing lessons - from 80 zł to 100 zł / hourly rate
paragliding flight with an instructor– 15 min. – 300 zł
logs for fireplace - 25 zł
Check-in begins at 15:00 and ends at 11:00.
Our cuisine is based on the grandma's recipes of Warmia and Masuria. We rely exclusively on products from our own production and organic farms.
One of our neighbours produces sheep's milk cheeses – The Frontiera Rancho was awarded in 2012 for being the best organic farm in Poland and is also alaureate of numerous prestigious awards.
We smoke fish and meatourselves. We produce our own eggs and also vegetables and herbs. Our organic apples (old Masurian varieties) and especially their juice probably will suit all children.
In the context of gastronomy in general we offer you:
Breakfasts in our lovely summer kitchen
Dinners in the summer kitchen
Kits for grilling in the private gardens
BBQ service by our chef especially for you in the private garden
All fresh and organic products you can purchase directly from our pantry and prepare snacks between meals or whole dishes by yourselves.
On request, we will help you to smoke fish caught by you
On cold or rainy days, at your request, we will provide breakfast or dinner directly to the apartments or private gardens
During their stay in Szelągówka, your children can take advantage of specially prepared for them:
modern playground

outdoor pool

individual sailing lessons

individual windsurfing lessons

sports equipment rental

team games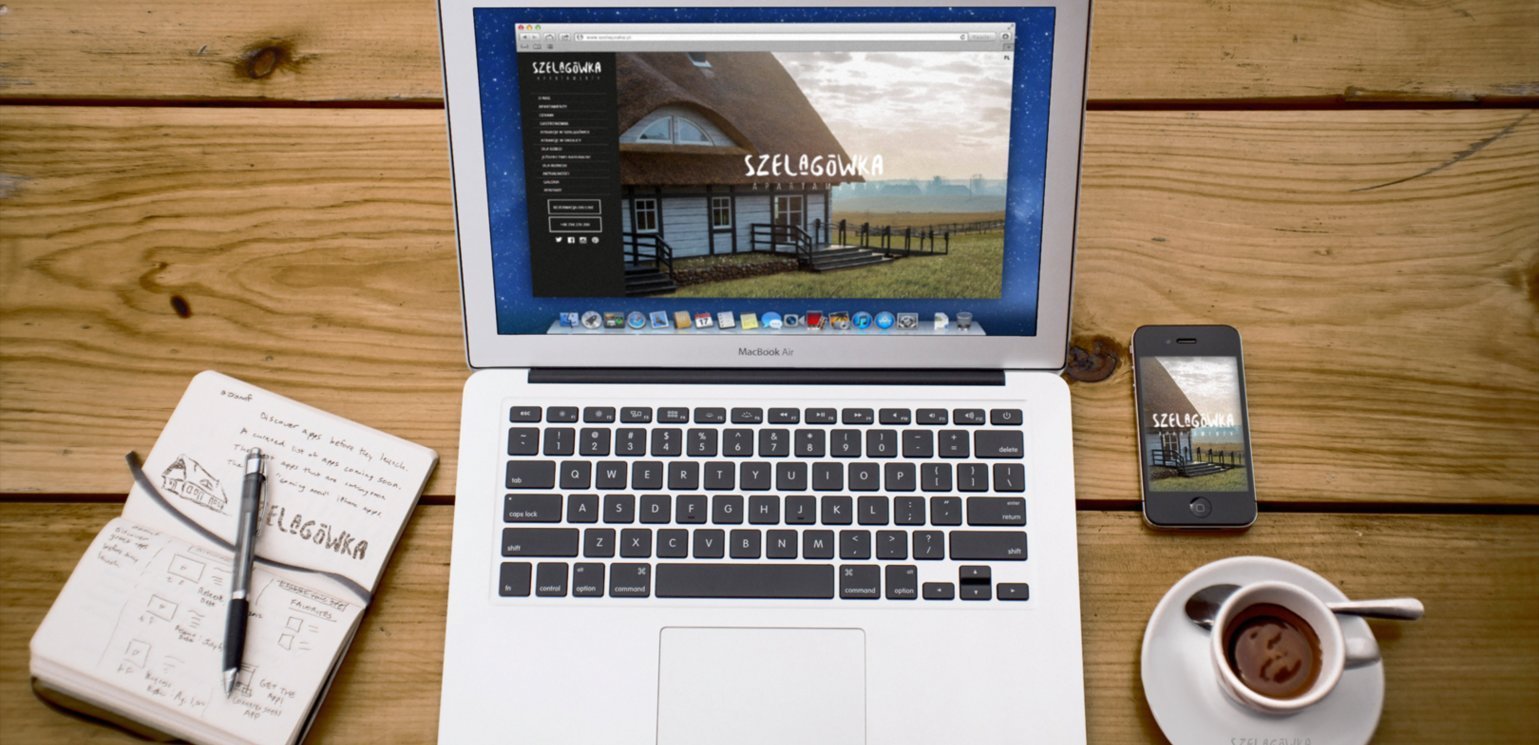 Our team is at your disposal 24 hours a day. We guarantee full professionalism. We will provide the highest level of services and meet your every request.
From 2017, we invite small conference groups (up to 20 people) to our apartments, for which we will provide exceptional comfort of meetings and an individual approach. We are convinced that you will like this unique place and that you will witness many unforgettable social and business meetings and the signing of many fruitful contracts.
Call:
+48 609 097 479 (PL), +48 603 899 479 (EN)
Visit us:
Apartamenty Szelągówkaul. Szelągówka 4
11-731 Sorkwity
GPS: 53,895067, 21,147812
Reception open: 7:00 to 22:00
18. W celu potwierdzenia rezerwacji przyjmujemy zadatek w wysokości minimum 30% całości kwoty należnej za noclegi. W przypadku dokonania wpłaty zadatku przez Gościa pozostała część należności powinna zostać wpłacona na konto Obiektu najpóźniej do 14 dni przed planowanym pobytem. W razie niedokonania całkowitej zapłaty za pobyt przez Gościa do 14 dni przed pobytem Obiekt zastrzega sobie prawo do rozwiązania umowy z Gościem i do zatrzymania wpłaconego przez gościa zadatku.
19. Wszelkie wpłaty dokonywane na poczet pobytu przez Gości są bezzwrotne. Skrócenie pobytu przez Gościa traktowane jest jako rezygnacja z usługi, a Obiekt nie zwraca Gościowi poniesionych kosztów za niewykorzystaną usługę.
20. Dokonanie rezerwacji przez jakikolwiek system rezerwacyjny, telefonicznie, mailem lub przez stronę internetową Obiektu oznacza akceptację warunków objętych niniejszym regulaminem.